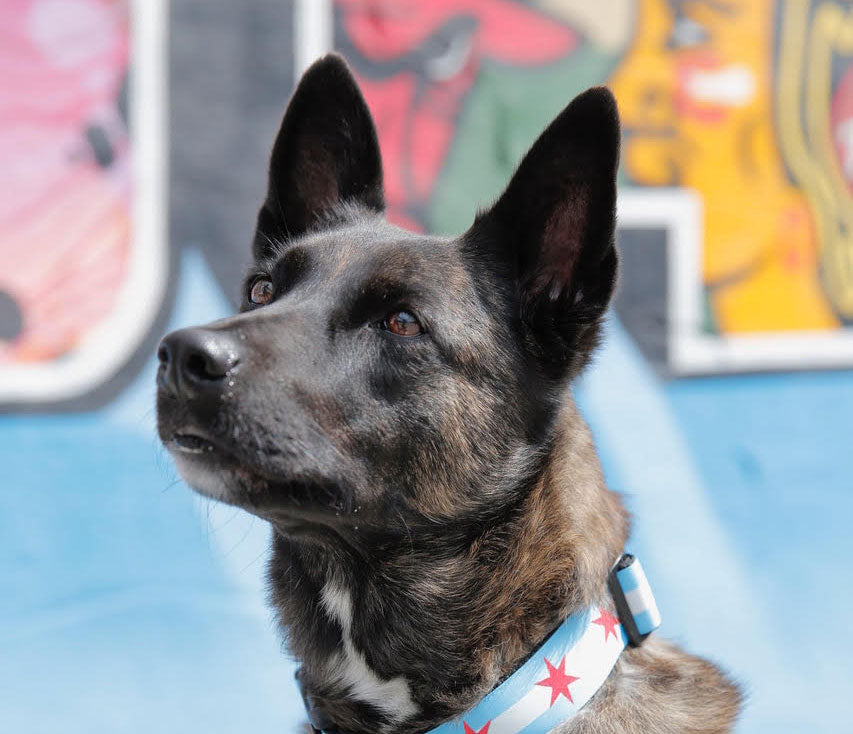 Remembering Remmy...
This is a painting of Remmy on a mural next to the Logan Square Dog Park. She's on the mural because of the wonderful community in Logan Square, and the emotional and financial support they provided us in 2012 when she was attacked by two off-leash dogs and barely survived. That marked the second time we gave Remmy life, and perhaps why they included a halo.

The first time, I suppose, was in 2009 when we adopted her from PAWS Chicago. We were just coming off of a terribly emotional time after a family tragedy, and adopting a dog was just what we needed. Jen found her online, and after meeting her, frankly, I wasn't convinced. She was cool looking, but she seemed... aloof. But Jen was convinced, so I went with it.

She was 1 or 2 years old at the time, and while a wonderful dog with us, she was a HANDFUL with other dogs... and even some people. So much so that in the two week "grace" period after adoption, with her aggression getting more severe, we almost took her back. Instead, we talked to Joan, a dog trainer at K9 University, who was familiar with Remmy from PAWS, and we asked if she thought Remmy could be rehabilitated with proper training. We were willing to do the work, but we couldn't do the work if this behavior wasn't correctable. Joan thought Remmy could become a great dog, and I'm so glad we gave Remmy a chance!

Remmy quickly became part of our family, and we couldn't imagine our life without her. Fast forward to 2012 when we almost lost her that second time. After the attack—which I won't go into much detail here about because it was brutal and terrible—we first took her to our usual vet and then to the Emergency Vet Center (Now called MedVet) in Chicago.

To say the least, her wounds were extensive, and during the week stay at the vet, she not only needed a wound vac for extended periods of time and plenty of meds, she also had three skin graft surgeries performed by Dr. Steve Neihaus and the surgery staff at the Center. We also met Nelly who was a vet tech at the center, and we became fast friends (in part because of her Hello Kitty glasses!). Nelly was so incredibly sweet and helpful, and taught us how to care for Remmy at home to properly care for her wounds and wrap her legs if she had an accident or flare-up. I'll never forget her and her kindness.

Even after the initial recovery period and discharge from the hospital, we'd have to take Remmy in every couple of days for bandage changes. It was a lot, emotionally and financially but we had SO much support from friends and strangers around the world, not to mention the hospital staff. Our dear friends Chris and Christy even set up a donation site (long before GoFundMe existed) and the contributions from around the WORLD significantly lessened the huge vet, meds, and follow-up visit bills. If you contributed financially or just provided words of support during that rough time, please know that you TOO helped Remmy survive!

Despite a tragedy in a lot of ways, there was an incredible amount of good that came from the entire experience -- including our sweet girl Remmy fully recovering from the whole ordeal and remaining with us for 10 more years!
In early 2013, our son Brody was born. When we brought him home, Remmy made the strangest sounds we had ever heard come from her! A sort of whimper but different than that. After a lot of sniffs and eventual tail wags, Brody was approved by Remmy, and we became a bigger, new kind of family together. Living in Logan Square and then Avondale, Remmy was by our side for all of the moves, and the ups and downs of life.

Life with Remmy was just... life. She was, as our pets are, fully part of the family, giving us joy, comfort, and tons of fun. We went on road trips, we went on walks, and we went on hikes. All with our now middle-aged dog Remmy. She was part of our everyday.
Jen also reminded me how, no matter what room we were in or how we were sitting, Remmy always found a way of positioning herself between us and the door. She'd also go from room to room seeing where we were, and THEN she would lay down to rest. A true shepherd, and a true loyal pup.

In 2020, after years of renting and saving, the pandemic prompted us to finally find a more permanent home. We found a place with a nice big yard in Portage Park on the northwest side of Chicago, and Remmy came along for the ride. Now 12 years old, while still spry in some ways, she was also really showing her age. I thought a lot about her aging—the little things like missteps, more difficulty breathing at times, and so on—and started to mentally prepare for the inevitable, however abstract it seemed.

Around this time, Jen and Brody wanted to get another dog, but I was hesitant because I thought it might be too hard on Remmy in her later years. Perhaps, too, this idea of a "replacement" for our aging dog seemed mean, although obviously NOT the intention. Regardless, they tricked me into "only going to visit" a puppy they saw online, and I took the bait. Hook, line, and sinker.

That's when Casey came into our life, and after some initial uncertainties, Remmy and Casey became buddies. In fact, Casey being very much a puppy, brought out things in Remmy we hadn't seen in years! An interest in toys, more activity in the house and yard, and, in general, happier. I was so pleasantly surprised!

And more importantly, I was wrong. Casey SIGNIFICANTLY improved Remmy's quality of life, and, I think actually GAVE her life in a way. As much as we could give Remmy exercise and pets, it's not the same as a fellow doggo. There are inherent dynamics in that kind of relationship humans simply don't get. This, in a small way, gave Remmy life for a third time.

In recent months, however, I've seen a different kind of degradation in her health. She was still, and always has been, food-driven, and would never, ever turn down a pet. No, that didn't change. It was the other small things like before, but now more pronounced. The breathing, the weak hind legs, the phlegmy cough, the occasional odd behavior after running or getting overly excited—almost like she was going to pass out. I've been preparing more and more everyday, especially since I work from home and have seen the nuance of these changes.

I guess in this way, what seemed to happen so fast on Friday has actually been slowly happening over the last year or so.

Then there was Friday. It started like any other day: wake up, morning pets, go outside, food, water, a little play, lay down, etc. Then I went out for a while and came home around 12:30. She wasn't on her bed, or by the door waiting for me, so that was odd. Instead I found her standing, panting by our son's bedroom, somewhat confused. I thought perhaps she had taken a fall or something, and was a little out of it or agitated. There are more details I'll skip over for trigger reasons, but I quickly realized that something was wrong, and likely more serious than I first thought.

Strangely, the night before last, both Jen and I noticed how Remmy came up for more pets and comfort than normal. Like 4 or 5 times more than normal. Neither of us didn't think much of it at the time, but maybe she was starting to struggle a bit, or was confused about how she was feeling, and needed a little love.

Friends who have lost pets say how fast it happens sometimes. I never doubted them, but when you experience it yourself—it does make you realize how important it is to cherish everyday.

I hate how death reminds us how to live, but it is an important lesson that I constantly seem to forget.

I took her into the emergency vet, and they quickly took her into the main ER on a gurney to see what the hell was going on. Not long after the doctor came in and gave me the sobering news. Her breathing was not improving, even on oxygen, and the X-ray showed a significant amount of fluid in her lungs, and some additional stuff going on around her heart. I cried, I left to get my family, we all cried together, and then went back to the vet.

When we saw her, her suffering was now even more apparent. She could barely breathe. Whether it was via medical means or natural causes, without a doubt this was her time to leave us. To take her off oxygen would mean suffocation and suffering. To leave her on, would only extend her life by hours, maybe a day or two if we were lucky. But she was completely despondent, and certainly not the Remmy we knew.
This is the Remmy I want to remember...
For those of you who have been through this, it's all incredibly surreal and terrible, and goes by so, so slow on the one hand yet incredibly fast on the other. It's hard to describe, but I suppose looking back it's simply emotional trauma.

We were all able to sit with her for a short time to say goodbye thankfully, and I stayed with her until the very end. We all shed more tears than I care to think about, and now we know she isn't suffering anymore.

Rest in peace, Remmy girl. You brought joy, comfort, and love into our life and to so many others over your nearly 16 years. We love you and will miss you terribly, and thank you for everything you selflessly gave us.