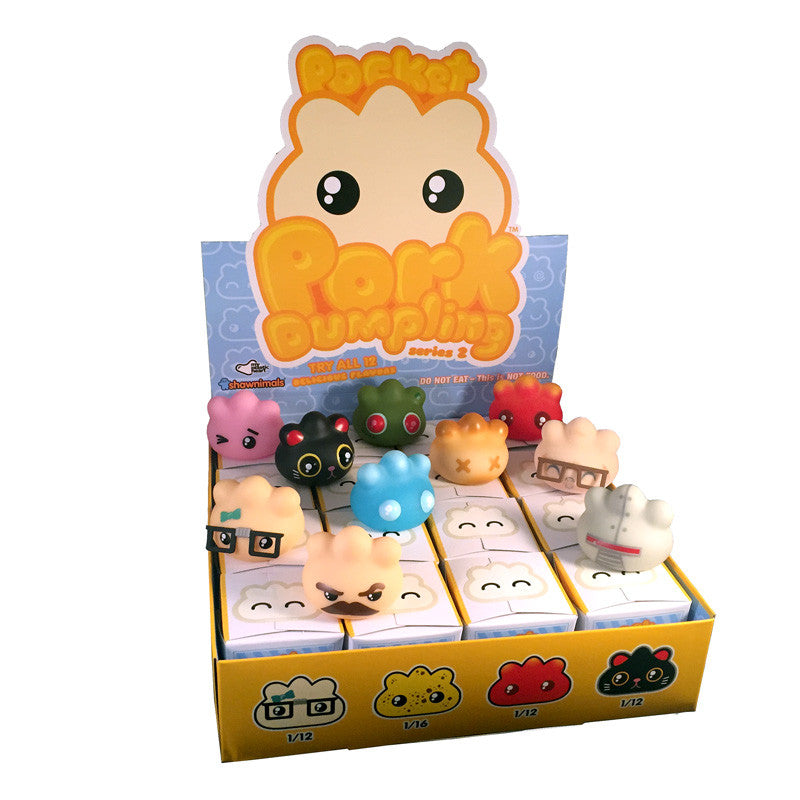 Series 2 of Shawnimals' adorable dumplings AVAILABLE NOW from Squibbles and myplasticheart!
FOR IMMEDIATE RELEASE
11/14/16 – Chicago, IL – Shawnimals, myplasticheart and Squibbles Ink are proud to announce the second series of Shawnimals vinyl dumplings with Pocket Pork Dumplings series 2! A long time coming, the series features over a dozen designs, all from the mind of Shawnimals creator Shawn Smith with expert input and collaboration from Squibbles Ink and myplasticheart! Nicely sized at 1.8-inch wide by 1.5-inch high and 1.6-inch deep, they're so perfectly collectible!
What's in the series?
Similar to the first, the second series will consist of 14 total designs (12 main +  2 chase) in a blind boxed assortment packaged in adorable, mini take-out style boxes. Designs are a mix of classic styles found in past plush series, along with a slew of new designs never before see. A variety of shots are attached, and we have more to send over by request.
Price and release date
Look for them at $6.99 MSRP, with a soft release at Designer Con in Pasadena, CA November 19th, with the full release in early December online and at a wonderful store near you!
Pocket Pork Dumplings?
This second series, like the first and various custom releases since, is based on the Shawnimals dumpling character originally known as Wee Sticker. The idea began years ago with something that few – if any – tried before: A mini plush, handmade blind boxed series. Shawnimals and myplasticheart teamed up for this special release in-store and online, and it sold out in minutes. The second series did the same, as did subsequent releases. But alas, these were limited, and not everyone got what they wanted. Pocket Pork dumpling mini vinyl are born from this, and from a love of making cute and kind of weird food-based characters, finally widely available.
Who is myplasticheart?
Established in 2004, myplasticheart is a toy store and gallery dedicated to bringing the best in both the designer toy and contemporary art world together in one place. Located in the Lower East Side in New York City myplasticheart provides one of the largest selections of designer art toys anywhere. myplasticheart also operates mphlabs, the division of the company responsible for product development in the form of limited edition art and design collectibles. Since 2006 mphlabs has produced various projects with many local artists as well as artists from overseas.
Who is Squibbles Ink?
While a second vinyl series was a must following the success of PPD series 1, getting an independently produced series together is never an easy challenge. Enter: Squibbles Ink – and its man behind the curtain Joe Somers – to the rescue. Squibbles Ink is responsible for the production side of all the squibbles ink™ + rotofugi™ Ninjatown Micro Plush, Floaty Pens, and Zipper Charm products. Some of the items also produced by Squibbles ink are 64Colors wide line of designer toys, the Kaiju inspired Lake Monsters series and the DIY plush product Plushform. Squibbles Ink was excited to again work with Shawnimals and myplasticheart (via MPHLabs) to produce this fun second vinyl series.
Who is Shawnimals?
Shawnimals is the the cute, funny, and kind of weird brainchild of Shawn Smith. Originally doodles that adorned the margins of Shawn's notepads in school, over his character designs evolved and became the perfect mix of being iconic and recognizable – yet open enough to allow someone's imagination to take the designs even further. Characters like the Wee Ninja from Ninjatown, Moustachios, Pocket Pork Dumplings, and so many more. Shawnimals has released hundreds of products in the form of designer toys and other collectibles with companies like Kidrobot and Rotofugi, Squibbles Ink, myplasticheart, lifestyle accessories and apparel with Mimoco, David and Goliath, and Smash Transit, amazing promotional goods for companies like MailChimp, Basecamp, Revolution Brewing, and others, not to mention comics, and popular video games for Nintendo, iOS, and Android, and more.
For more info:
Questions? Let us know!